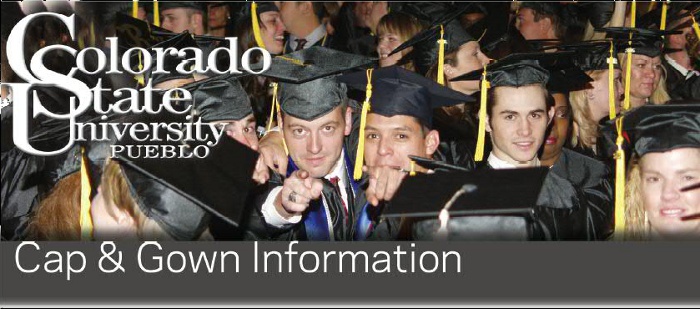 NOTE: FOR COMMENCEMENT INFORMATION: csupueblo.edu/commencement.
Cap & Gown Information
Graduation Fair is March 8th & 9th, 2022 from 9:00-5:00 in OSC & CSU Pueblo Bookstore. Order caps/gowns, class rings, and announcements.
Orders must be placed at the bookstore or at csupstore.com.
Caps and Gowns are purchased by the graduates and do not need to be returned after the ceremony.
Bachelors Cap, Gowns & Tassel $37.99 + tax
Masters Cap, Gown, Hood & Tassel $74.99 + tax
CSU-Pueblo Souvenir School Color Tassel $9.99 + tax
Full payment must be received at the time of the order. There are NO refunds.
Orders placed after 5:00pm on March 31st, 2022 will be charged a $25.00 late fee.
Late orders are subject to size availability.
Orders can be picked up in the bookstore on May 4th, 5th, & 6th, 2022 from 9:00am-5:00pm.
Orders are available to be shipped out before April 15, 2022.
***Graduates that arrive at the ceremony in regalia that doesn't match in fabric and color will not be allowed to walk in the ceremony.***
Diploma Frames
Diploma frames are available for purchase in the bookstore or a csupstore.com.
Class Rings & Announcements
Class Rings & Graduation Announcements are available by clicking the links below.
Graduation Gifts
Alumni and graduation gifts are available in store or on-line at csupstore.com.